INTRODUCING
The ABRITES Diagnostics for Volkswagen, AUDI, Seat, Skoda is one of the first and most important automotive software tools entirely developed by ABRITES. For over a decade our team has perfected and updated this product in order to keep it on top of all aftermarket solutions for vehicles from the VAG group to this date.

STANDARD DIAGNOSTICS AND FREE FUNCTIONALITIES
The basic diagnostic capabilities of the ABRITES Diagnostics for VAG enable users to perform complete vehicle diagnostic scan, read and clear diagnostic trouble codes (DTC), display live values from the modules of the vehicle, perform Input/Output actuator tests, enable and disable actuators, access and perform Basic Settings, scan all units or separate one, access scan reports in a printable format. All these activities can be done under all possible protocols.

The ABRITES Diagnostics for VAG supports vehicles manufactured from 1997 up to the latest models for standard diagnostic functionalities.

That is however not all. The free functionality, part of the ABRITES Diagnostics for VAG is a great platform to show the vast capabilities of the software with an array of functions that do not require any additional licenses to be purchased. These include:

Software update of modules with FRF/SGO files

Read/Write EDC16 Flash and update Flash counters

TV Activation - allowing video to be played while the car is in motion for MMI 2G and 3G multimedia systems

Dump tool for a vast array of instrument clusters and ECUs

Reset of service intervals

DPF OFF for EDC16 and EDC17 ECUs

Remote control adaptation

Guided functions (start/stop cruise control, Language, Start/Stop button A6/A7/A8, Startup animation A6/A7/A8, Lap timer A6/A7/A8, etc)

Coding calculator

Steering Lock adaptation (Touareg/Cayenne/A8 2003-2010)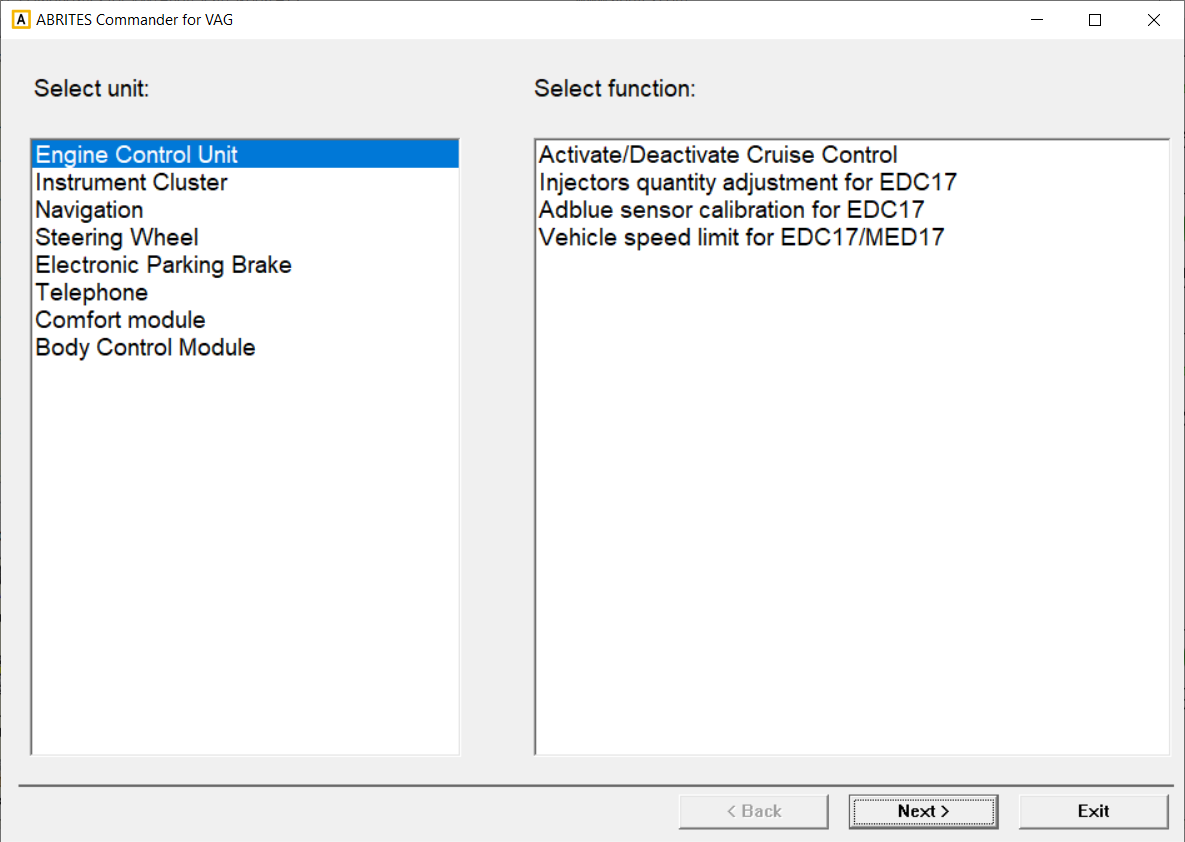 KEY PROGRAMMING
Key programming is one of the most important automotive aftermarket tasks, and the Abrites team know it. We pioneered non-OEM dealer-level software solutions in that area, with unmatched products, which we constantly develop and improve.
The ABRITES automotive solutions for key programming of VAG vehicles support MQB vehicles (GOLF 7, A3 8V, Octavia A8, etc.) with VDO clusters up to 2016. Key programming for BCM2 vehicles (Audi A4, A5, A6, A7, A8) is also made possible, including both all keys lost and additional key programming for vehicles up to 2014 for all keys lost situations, and up to 2018 for adding a spare key. We cover Audi A6/Q7 with Kessy, including both all keys lost and additional key programming. Immo III/IV vehicles, both all keys lost and additional key programming.

With the latest Abrites solution you can read the component security (CS) bytes from locked BCM2 modules 2013-2018, for both A4/A5/Q5 and A6/A7/A8/VW Touareg platforms. It allows the programming of keys.

Our software products allow programming additional keys/transponders, PCB and remote-controls for Volkswagen, Audi, Seat, Skoda, Bentley, Lamborghini and even some Porsche vehicles.


CS Manager for locked BCM2 modules - NEW!
VN020
Immo III/IV Megamos 48 key programming
VN006
Key programming for MQB vehicles
VN009
PARTS EXCHANGE/ COMPONENT PROTECTION
Parts exchange and adaptation, or module replacement, is a very common procedure for every automotive professional. The Abrites solutions for parts exchange for VAG vehicles offer great possibilities for parts adaptation and modules synchronisation.

Our solutions work both for immobiliser data related modules, and modules related to component protection synchronisation. Supported brands are Volkswagen/Audi/Seat/Skoda/Bentley/Lamborghini and even some Porsche vehicles.

Immobiliser data related modules
Using the Abrites tools you will be able to read/update IMMO data (PIN, CS, MAC), which lets you adapt used modules to a vehicle. The following units are covered:

Engine Control Units (ECUs) (EDC15/EDC16/EDC17/MED17/ME7/MED9.x/Simos PPD/Simos PCR2.1/Magneti Marelli 4HV and 7HV and others)

Transmission Control Units (TCUs) including DSG (DQ200 and DQ250) and CVT

Immobiliser

Steering Lock

Dashboard

Details can be found in the VAG User Manual.

Component protection related modules
Other modules that do not require IMMO data adaptation, but require component protection synchronisation are the following:

Component Protection Generation 1
Audi A8 2003 – 2010, Audi A6 2004 – 2008: MMI, CD-Changer, ILM, and other modules
Component Protection Generation 2
(possible only if you have dump from the gateway of the donor vehicle)
Audi A6/A7/A8/Q7 2004 - 2010 and Audi A4/A5/Q5 2007 - 2015: EZS-Kessy, Comfort module, Climantronic, Airbag, Instrument cluster, infotainment, and other modules.
Audi A6/A7/A8/ and VW Touareg 2010+: Dashboard and Infotainment modules


Using the latest Abrites solution regarding component security, you can now replace all component protection-related modules, if both the donor and host gateways are present.
Replacement of the dashboard and infotainment module are done by OBD, without the need of the donor gateway, and also the original module is NOT required. The replacement of Central Electric Module (CEM) is done by dump, again, without the need of the donor gateway, nor the original CEM.
Supported models are Audi A6/A7/A8 and Volkswagen Touareg (2010-2017), with gateway LEAR.

Other functionalities:
Read/update flash and eeprom data from dump files of Micronas MCUs;

Read/update Conf. data and clear crash data of Siemens and Bosch airbag modules


Component Protection Manager - NEW!
VN017
CLUSTER CALIBRATION
The ABRITES software for VAG (VN007 and VN015) supports cluster calibration of VAG vehicles from 2000 up to 2019, depending on their model. Vehicles with CAN, K-Line, UDS, as well as MQB clusters and new A6 C7 4G/A7 4G8/A8 D4 4H type vehicles are supported.

This is an unmatched software tool, aimed at facilitating every VAG professional's work when it comes to mileage calibration, for example.


Mileage recalbiration for MQB vehicles
VN007
Odometer (incl. A6/A7/A8/Touareg 2010-2017, without MQB)
VN015
CODING AND PROGRAMMING
The ABRITES products are ever evolving.
VN018 Advanced diagnostics for VAG vehicles
is the latest development by Abrites, having many useful applications. It has very
flexible and detailed coding options, outbalancing the OEM solutions.
The software is designed with quick menus and buttons to help and and save time with the daily work, having the following functionalities:
Wireless Car Play configuration, activating TV in Motion
, quick and user friendly coding options with a coding helper, adaptations, MMI Configuration, Long Coding options, for models under UDS and TP protocols.

The special functions also cover flashing .sgo and .frf files, enable/ disable DPF for EDC16/ EDC17 ECUs, software updates for all modules from the vehicles. Flash reading and writing, EEPROM reading and writing, checksum calculation when writing and engine MED17/ EDC17 control unit exchange are also made possible.


Advanced diagnostics for VAG vehicles - NEW!
VN018
ECU authorization for all Immo III/IV vehicles
VN013
MORE FUNCTIONALITIES
Vehicle diagnostics and programming requires a vast array of functionalities. This is why our team has prepared extensive software packages for the VAG professionals, see them below.


VAG key programming package
VN003, VN006, VN009
VAG FULL package, v14
VN002, VN003, VN005, VN006, VN007, VN009, VN012, VN013, VN015, VN017, VN018, VN020
2014 Audi Q5 All Keys Lost- Key Programming by unlocking the BCM2 unit using AVDI and VN020
Hello Friends,I haven't uploaded new videos lately but now seems to be a good moment to introduce you the latest key programming functionality that allows yo...
VW Golf VII DSG TCU replacement and adaptation using AVDI
Confirm your action
Are you sure you want to perform this action?