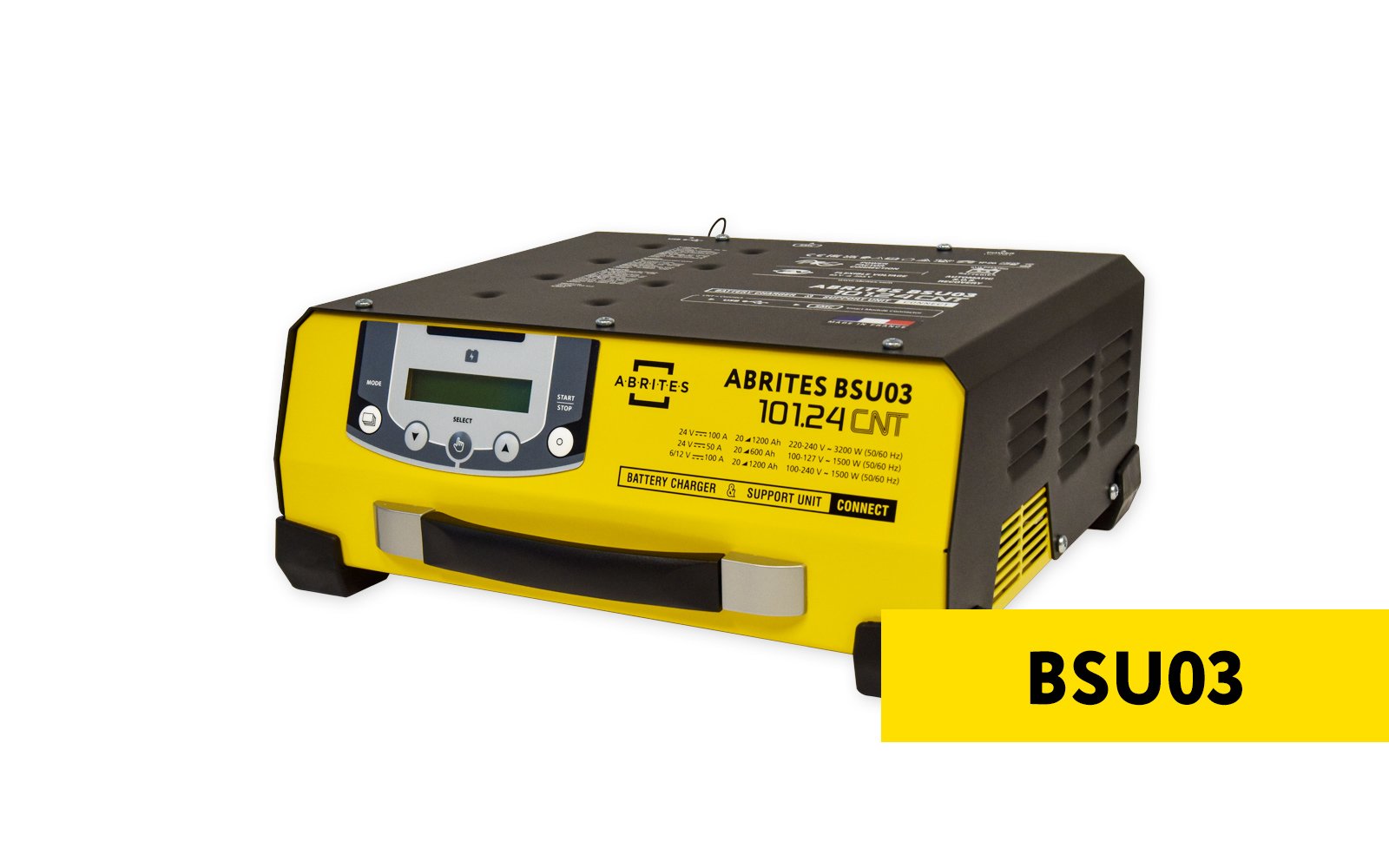 NEW BATTERY SUPPORT UNIT BY ABRITES – BSU03!
The new iteration of the well-known Battery Support Unit is now available!
The BSU03 supplies a stable power of 6 V, 12 V and 24 V voltage to lead or lithium batteries.
The BSU03 - Battery Support Unit (Charger) - 101.24 CNT is a 100A high power CONNECTED charger with inverter technology, which will keep the vehicle's battery power stable while you execute your tasks. It will guarantee security and ensure you can complete whatever you are doing without worrying the battery will lose power. The unit offers four operating modes, suited for various situations.

Charging mode offers 6, 12 or 24 V to Lead or Lithium batteries from 5 to 1200 Ah.
The Diagnostics mode is perfect for workshops, where you need a consistent supply of power to vehicles while performing diagnostic or other procedures. The BSU03 supports up to 100 A for 12 V or 24 V batteries in vehicles in diagnostic phase.
The Showroom mode ensures power to the batteries of the vehicles used at showrooms and events, where frequent demonstrations with electrical accessories are being held and stability is required.
The fourth mode – Tester, enables you to check the vehicle's battery state. Using the BSU03 you can access information on the battery voltage, evaluate the starting system – starter and battery, and also check the alternator.

This is only a part of the functionalities the BSU03 offers!
It extends the life and performance of Lead and Lithium batteries and provides a specific charging curve in 8 steps (lead battery) or 9 steps (lithium-iron phosphate battery) without supervision. The BSU03 can even recover deeply discharged batteries with less than 2 V (automatic SOS Recovery).

Check out all specifications and order now: HERE.