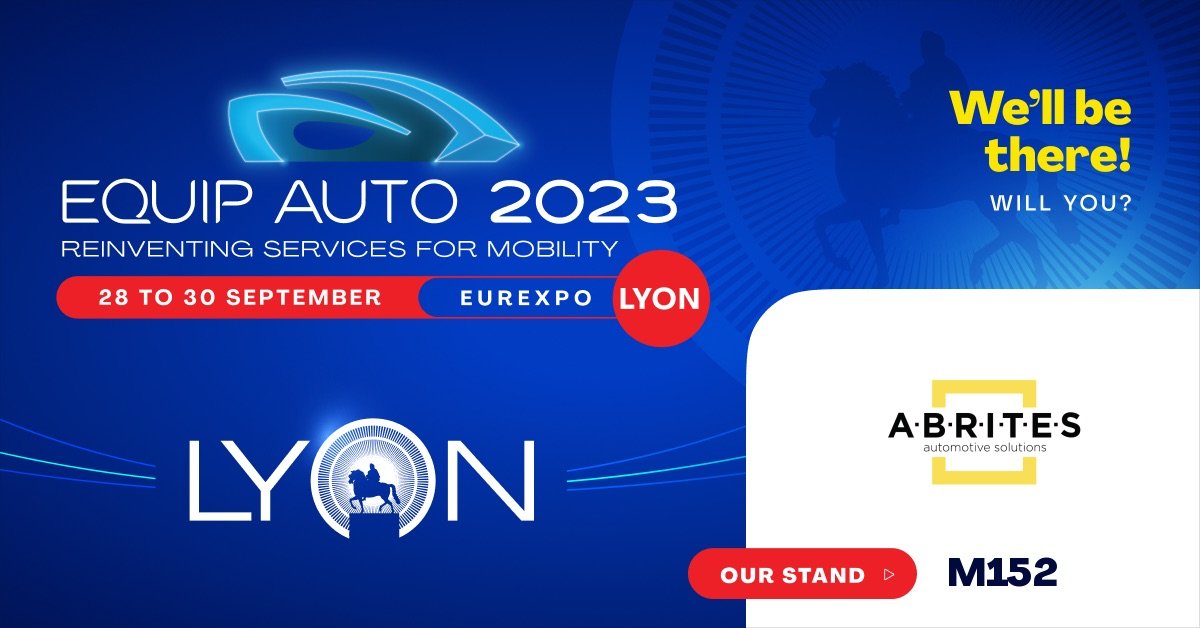 ABRITES AT EQUIP AUTO LYON, 28-30 SEPTEMBER, 2023
Come and meet us at the EQUIP AUTO Lyon on 28-30 September, 2023.

We are excited that once again we will be a part of one of the biggest exhibitions for automotive and aftermarket innovations!
This year's EQUIP AUTO Lyon will be held at EUREXPO Lyon, and you can find ABRITES at stand M152. Our team will be presenting our latest tools and products on spot live at the expo, so do not miss it!

Use EALABRITES for FREE entry. You will be able to register with this code HERE.

News on live demonstrations and presentations is coming soon! Make sure you come to the event and check out what the ABRITES team has prepared for you - you will be greeted with a smile and a glimpse in the latest innovations in the industry!

Important: The access badges are valid for the 3 days of the exhibition.
Your EQUIP AUTO Lyon access badge also gives you free access to the Salon Automobile de Lyon (redeemable once only from 28 to 30 September 2023).

More about the event:
EQUIP AUTO Lyon 2023, the international benchmark event for innovation in the automotive aftermarket and connected mobility services. Come and meet our 400 exhibitors and brands and discover the new products. EQUIP AUTO today powerfully asserts its ambition and stance: to be the international benchmark event within the EMEA zone for aftersales and services relating to connected mobility, by bringing together all the different players in the value chain, extended to new market entrants.