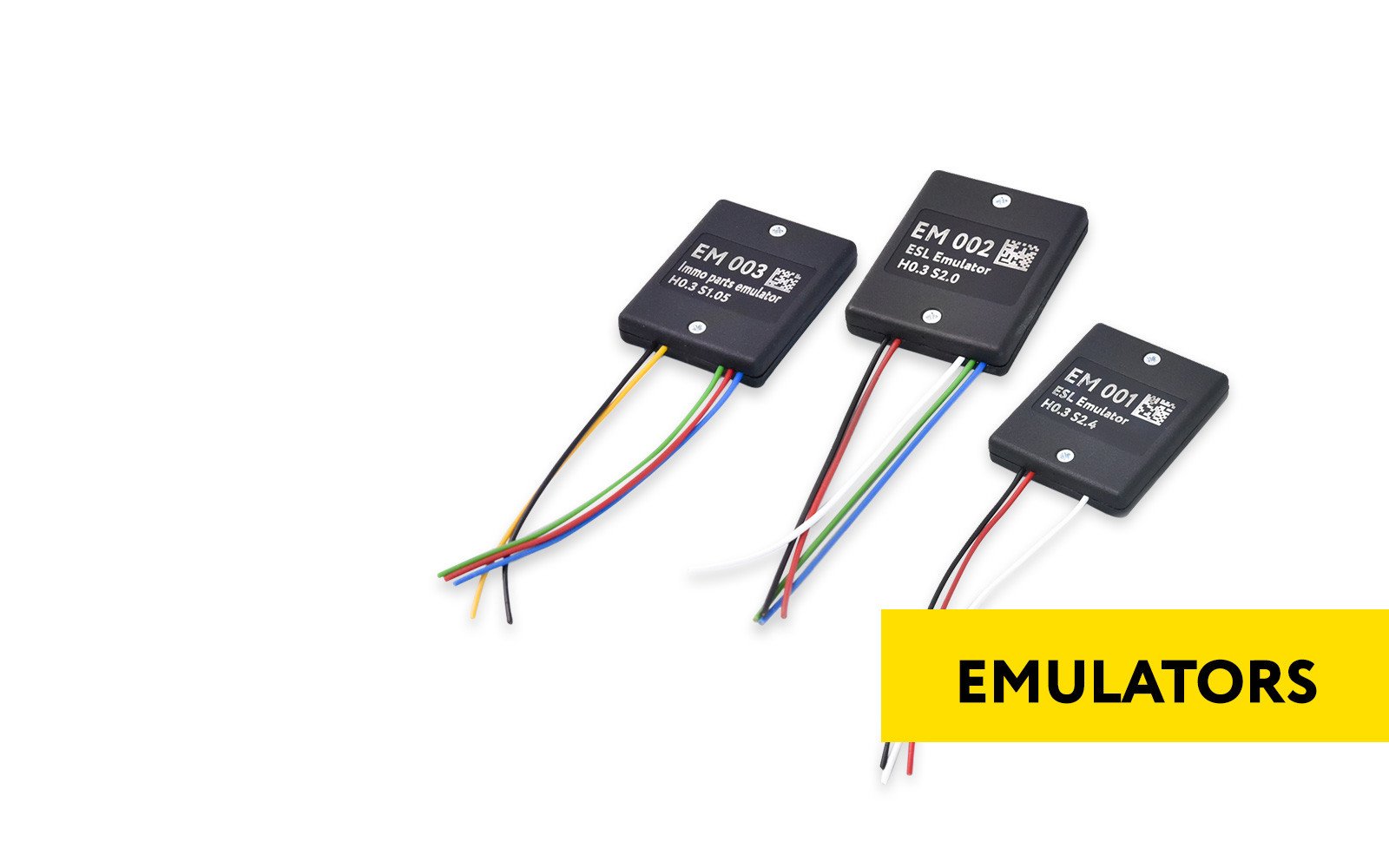 EMULATION - AMBITION OR ENDEAVOR TO EQUAL OR EXCEL OTHERS. A STORY ABOUT ABRITES EMULATORS. PART 1.
PART 1 OF 3
Abrites is a company who's idea is to allow its customers to perform as much as possible. The step after that is to make sure that everything above that is also made possible. We know what it means to have to splice into the vehicle's wiring and being forced to explain to the customer why that is required. Sometimes, however this is necessary and what we wanted to achieve with our emulators - minimum interference with the vehicle whenever possible. Emulators as a whole are meant to solve a problem, not create one and so we planned from the get go that this will be our moto.
Here are some of our emulators and the problems they solve.
EM001 - ABRITES ESL Emulator for Mercedes
Find it HERE
EM001 was the first emulator we produced and it was designed to resolve the constant problem of Mercedes ESLs. As you know they are very, very brittle and tend to brake all the time.
Our emulator replaces the ESL module completely for most Mercedes- Benz cars produced between 1997 and 2015, starting with W202, W208, W210, continuing with the W203, W209, W211, Sprinters, Vitos and even some Crafters - all these models are plug and play - remove the ESL from the car, change the toggle switches on the EM001 and you are good to go. The customer may not have steering lock which may lose a bit of convenience but they also have the best solution which will not fail as the originals usually do. Later models, W204, X204, W207, W212, W117, W176, W245 you have to adapt the ESL Emulator to the car, just like you would a new or used ESL from Mercedes.
The same procedure applies to EM012, which has an adapter to plug in directly to the square 4 pin connector of the W204 and similar. See a video HERE
IMPORTANT NOTICE
To anyone who had problems with their EM001s - the issue is resolved and all you need to do is UPDATE the EM001 with the automatic Emulator update function at the bottom of version 11.6 of Abrites Diagnostics for Mercedes. The video below will show you how. The only difference now is that the file for update does not need to be selected. Rather the software will do that automatically, see video HERE.
EM002 - ABRITES ESL Emulator for Renault
Find it HERE
EM002, similarly to EM001 replaces the ESL in Renault vehicles. It supports all ESL types and also some Nissan models.
The installation is plug and play and no toggles are required.
EM003 - Immo Parts Emulator for VAG
Find it HERE
EM003 is used to emulate any IMMO part while using VN005. Sometimes in some cases adaptation of IMMO parts is not possible. Then we have to intervene.
The abilities of the EM003 can be used for:
Adapting Engine Control Units when the Power Class and/or the car Brand are different
Transmission Control Units that don't allow PIN and CS to be read/changed

The emulator works for the transmissions of Audi A6 2003-2010, Audi Q7 2005-2015, Audi A8 2003-2010, and for all Immo III/IV engine control units where writing is not permitted. (EDC16/EDC17/ME7/MED9/MED17/Simos benzin/Simos PPD/Simos PCR/Magneti Marelli/Delphi).
AVDI Interface and VN005 are required to purchase this product.
HERE is how to do that.
Next week we will continue the story of the emulators and talk about more in detail about their applications. Until then stay healthy and have fun at work.
Alek