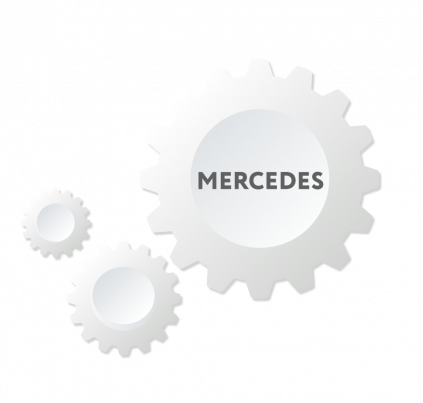 MN026 - Key Programming, EIS/ESL/DAS Manager/7-Gear ETC/ISM/Infra Red and password reader/Personalization/Activation/Coding
MN026 is the current world leader in terms of Mercedes-Benz vehicles module replacement, key and remote programming both for new and used control units for a vast variety of models.
The modules available for replacement using the MN026 are all DAS related modules or modules related to the Drive Authorization System in Mercedes also known as FBS (Fahr Berechtigungs System). These module include but are not limited to: ECUs, TCUs (7G-Tronic), ISM, DSM, ESL/ EZS, EIS/ ELV. MN026 can read the FBS data from all DAS/FBS related modules and can display it in as many details as possible, it allows you to save this data and modify it or transfer it to a different unit, you can use this function to make each DAS/ FBS module virgin, personalize it, activate it which is the only way to exchange DAS related modules from one car to another. The same applies to DAS/ FBS related modules for coding – you can read the coding, save it and write it from one module to the other which is the only way to avoid online SCN coding. Service password reading is done almost instantly with this special function, you will need it for module replacement.
Key programming is another part of the MN026's abilities. With the help of this special function and the additional IR adaper (ZN036+45 – part of the ZN030) and the ZN051 Abrites Distribution Box you can easily extract the EZS/ EIS key password which will allow you to program Infra Red keys to DAS2/ DAS3 (FBS2/ FBS3) together with the ZN002 PROTAG programmer. The applicable keys are original Mercedes- Benz, Abrites IR keys and PCBs and good quality Chinese made keys. With MN026 you can enable and disable key positions.
The abilities of MN026 do not end there. With it's help you can program the Abrites EM001 Mercedes- Benz ESL/ELV Emulator and you can also reset the mileage of any supported EZS/EIS.
We recommend you to use this product to its full potential with the help of the following additional tools:
ZN051 Abrites Distribution Box
ZN002 Abrites PROTAG programmer
ZN030 Abrites ABPROG
Abrites IR KEYS with boxes and Abrites IR PCBs which fit in genuine OEM cases and good aftermarket ones (Abrites keys are marked TA12, TA13, TA14, etc. in our online store). The keys are reusable and can be programmed multiple times, they come equipped with remotes for all known frequencies.
Here are the models you should expect the MN026 to work with by groups and generations:
I. W202/ W208/ W210
II. W203/ W209/ W211/ W219
III. W168/ W245
IV. W220/ W215/ R230 (NOT 100% OF THESE VEHICLES ARE SUPPORTED DUE TO TECHNOLOGICAL SPECIFICS)
V. W204/ W207/ W212/ W218
VI. W221/ W216/ W251/ W164 (X164)
VII. W169/ W246/ W117
VIII. W166 (X166)
All of these vehicles have derivatives which use the same basic principal as these groups so they are also supported.
For the moment MN026 supports the vehicles up to FBS3.
Other features you should expect include SBC Repair for the Sensotronic Brake Control Units in W211, W251 and R230 for both types of SBC manufactured.
N.B. Please note that you will require an AVDI interface with an active AMS in order to use this special function. Absolutely no tokens required.
Related Products
Confirm your action
Are you sure you want to perform this action?